100% Eco-sustainable. Plastics made to last
Snips products are made to be used every day and they're made to last. And, when these products have reached the end of their life, they are 100% recyclable.
Subject to rigorous tests and checks, all our products are guaranteed to go from the low temperatures of freezers and fridges to the high temperatures of microwave ovens and dishwashers, without any deformation, discoloration or release of harmful substances which could come into contact with food.

The choice of the best and most innovative materials allows us to always guarantee the maximum functionality of the containers. These products truly last for years and contribute to a significant reduction in the amount of plastic thrown away. None of our products are designed to be disposable; for this reason, each container is accompanied by instructions for correct use.

And, when these products have reached the end of their life, they are 100% recyclable. Special attention is also given to packaging and labelling, which also comply with this fundamental requirement of sustainability.


Recycle, Reuse, Reduce waste.
Sustainability is not a fashion for us: we work to design and produce sustainable, reusable and recyclable products. Containers that help avoid food waste
Faced with all these considerations, it is clear that plastic should not be demonized. The right attitude is instead that of a correct use of plastic products and packaging and a careful disposal of the same. Both citizens and institutions should focus on a true "circular economy".

We need an increasingly strong commitment to the recycling of all materials and the use of products made with recycled material, according to European Union directives. We must enhance the commitment of companies to use recycled materials; we need to improve citizens' culture".
Improving food storage
Many organic household wastes are generated by poor food storage.
Unsuitable containers are used to store food which then deteriorates and ends up in the bin.

We also waste all the energy that was used to produce the food and we create more pollution for landfills. Snips makes containers that help preserve food for longer, keeping the nutritional properties unaltered. We make sure that less waste translates into better health for the planet.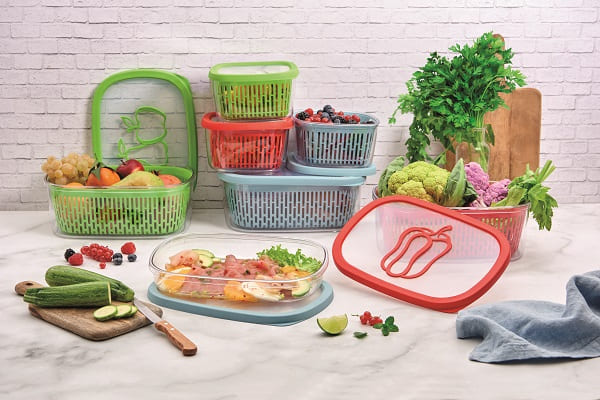 Smaller environmental impact
All the manufacturing, assembly and packaging is done in Italy.
Every shipment departs from the facility at Ossago Lodigiano to minimize the movement of goods, ensuring a smaller environmental impact throughout the entire supply chain. Our manufacturing facilities also use low-energy plants and systems.